You may email questions or comments to CampusSafety@mcm.edu . Your comment will be shared with the appropriate campus department. If you have a question, please allow 72 hours for a response. 
McMurry University
Spring 22 COVID-19 Guideline Update
March 1, 2022
It's been nearly two years since we first learned about COVID-19. The pandemic's highs and lows have tested our campus community, but resilience and dedication to #ProtectTheNest have seen us through. 
It now appears likely that COVID-19 is transitioning from pandemic to endemic. This month Taylor County has reported a sustained, downward trend in active and new cases, and the Hendrick Hospital Community Safety Dial has reflected a decreasing level of risk. McMurry, too, has seen very few cases in recent weeks. On Friday, February 25, 2022, the CDC updated its COVID-19 guidelines. These requirements track the spread by counties and look specifically at new COVID-19 related hospital admissions over the previous week and the percentage of hospital beds occupied by COVID-19 patients as well as new coronavirus cases per 100,000 people over the previous week. The CDC is recommending universal masking for communities at a high level of risk. Currently, Taylor County is at a medium level of risk. 
As a result, McMurry University is changing its COVID protocols, effective Tuesday, March 1. 
In introducing relaxed protocols, we ask each member of our campus community to remain respectful of our policies and one another. Senior leadership will continue to monitor COVID-19 case numbers and CDC recommendations and reserves the right to change guidelines as necessary.  
Thank you for supporting our diligent efforts to #ProtectTheNest.
What's Changing to #ProtectTheNest
Effective Tuesday, March 1
Move to Optional Face Masking Indoors
Classrooms, Offices, Athletic Competition and Special Events
Face masking indoors is optional. Face masks are still recommended for individuals who are:
Immunocompromised or in regular contact with someone who is immunocompromised
Unvaccinated individuals
Individuals over 65 years old who have not received a booster shot.
If someone in proximity asks you to cover your face in their office, please be courteous of those desiring the added precaution. Assume that you do not know what may be happening privately in their lives.
Mask Recommendation
McMurry continues to recommend the use of KN95 masks, double masking or equivalent masking to provide a higher degree of protection. Research has shown high-quality, well-fitted masks are very effective in protecting against infection. It is important to remember to wear the mask properly – covering both your nose and below you chin.
In-Person Meetings
Meetings may be held in person or on Teams, whichever is deemed to be most effective.
Dining Hall Self-Service
The use of disposable gloves for self-serve stations began February 28. Please also remember to wash your hands often and well with soap and water or an alcohol-based hand sanitizer.
What's Continuing to #ProtectTheNest
Daily Healthy Roster Reporting
Report your health status each morning via the Daily Healthy Roster text app. Random screening will take place at various locations for the remainder of the spring semester. This data provides valuable information to help us #ProtectThe Nest.
Intercollegiate Athletes Testing
Athletes will be tested before traveling to an away competition.
COVID-19 Testing Services
The University nurse continues to offer free tests to all students, faculty and staff Monday – Friday from 8:30 a.m. to 5 p.m. (closed from 12 to 1 p.m.) 
Quarantining and Isolation Protocols
McMurry is following CDC guidelines and contact tracing:
Positive Case (Isolation): You will be asked to have no contact with anyone for 5 days and wear a mask for another 5 days. If you have no symptoms, you may leave your residence after 5 days, but you will be required to wear a mask for an additional 5 days - a total of 10 days.
Exposure to Positive Case (Quarantine):

Vaccinated + Boosted: Wear a mask for 10 days. If you develop symptoms get a test and stay home.
Unvaccinated: Stay home with no contact with anyone for 5 days. If you have no symptoms, you may leave your residence, but you will be required to have a negative test before returning to in person class/campus and continue to wear a mask around others for 5 additional days. 
Case Reporting
McMurry will continue to report positive cases. The University will inform the community of within 24 hours of a confirmed positive case.
Prospective Student Visit Days
Guests are welcome on campus and asked to follow McMurry COVID-19 protocols in place at the time.
Guests in Residence Halls
No outside guests will be allowed in the residence halls.
Campus Events
Events with guests outside of students and staff must follow McMurry COVID-19 protocols in place at the time.
Vaccination Encouraged
McMurry University encourages vaccination as another way to work together to #ProtectTheNest.
More information on the new CDC Guidelines can be found here.
From Office of the President
Dr. Sandra S. Harper
If you have questions, please email us at communications@mcm.edu.
Previous COVID-19 Updates
---
Campus Updates
Spring 2022 Return-to-Campus Information
For the Spring 2022 semester, staff, faculty, and students who have not yet proven that they are fully vaccinated will be required to provide a negative COVID-19 test to gain access to campus. If you are fully vaccinated, you will not be required to test.
Staff, faculty, and students have the option to schedule their tests, at their expense, before coming back to school or test for free when they arrive back on campus. Students traveling to McMurry from long distances are encouraged to test at home and confirm no infection before making the journey.
A healthcare provider must administer the off-campus test with a documented date stamp for the test result to be accepted. A home test will not be accepted. Click the button below for detailed instructions. 
Previous Campus Updates
Fall 2021
Return to Campus Plans
Dear Campus Community,
McMurry University has focused on the health and safety of the campus community throughout the coronavirus pandemic while continuing to advance our students' academic goals. Campus leadership follows guidance from the Centers for Disease Control and Prevention (CDC), Texas Department of State Health Services (DSHS), Abilene-Taylor County Public Health District (ATCPHD) and Hendrick Health to support the University in making informed decisions. As the coronavirus mutates and forms new variants that "try to survive better," we will monitor and adjust as necessary to the evolving conditions.
Information on Current Delta Variant
In the last four weeks, Texas, including Taylor County, has seen an alarming increase in COVID-19 hospitalizations in the unvaccinated due to the dangerous emerging delta variant. Physicians across the county note that the rise in hospitalizations is entirely preventable if more people would get vaccinated.
Being fully vaccinated for COVID-19 can protect you from the delta variant, but breakthrough infections sometimes occur. While the authorized COVID-19 vaccines are not perfect, they are highly effective against serious coronavirus disease and reduce the risk of hospitalization and death.
Abilene Situational Overview
McMurry tracks local risk level via the U.S. COVID Risk & Vaccine Tracker at CovidActNow.com. The Act Now Coalition is an independent 501(c)(3) nonprofit founded by volunteers in March 2020. Covid Act Now is our COVID-focused initiative to help people make informed decisions by providing timely and accurate data about COVID in the U.S.
---
How We Can
#ProtectTheNest
Get Vaccinated
Following the recommendations and guidance of the CDC and the American College Health Association (ACHA) , McMurry strongly encourages our campus community to be immunized against COVID-19.
The University's Fall 2021 stance to return to campus is "Vaccine Expected." If you are not vaccinated, please consider getting vaccinated before returning to campus. We recognize there may be a lack of information that causes you concerns.
Learn More About the Vaccine
If you are in Abilene on Tuesday, August 10, 2021, consider attending the informational event at The Paramount Theatre. You will learn more about vaccination from the experts at Abilene-Taylor County Public Health District and Hendrick Health, and if you would like to get vaccinated, a vaccine clinic is being offered that day. Click here for more information.
Information is also available at cdc.gov.
On-Campus and Abilene-Area Vaccine Clinic
McMurry is working to arrange a vaccine clinic on campus. If you need a vaccination and are interested in participating, please email us at CampusSafety@mcm.edu.
Abilene-area pharmacies including CVS, HEB, Market Street/United Supermarkets and Walgreens provide vaccinations. You may also schedule with the Abilene-Taylor County Public Health District. Click here.
To Return to the McMurry Campus
Vaccination will be expected but not mandated. Members of the campus community, including all students (residential and commuters), faculty and staff, will be asked to do one of the following things:
Show proof of vaccination. If you have been vaccinated, please click below to upload an image of your vaccination card.
Obtain a negative COVID-19 test no more than seven (7) days before you return to campus and present results when you arrive on campus.Testing will be provided to students on campus.*
If you test before you arrive on campus, please submit test results below.
Show positive COVID-19 test result more than 14 days but less than 90 days before moving back to campus or before classes begin on August 23, 2021, whichever comes first.
* If you arrive to campus and test positive, you will be isolated immediately. Isolation space is limited, so you may be required to return home to isolate. We recommend that students traveling long distances to campus consider testing before arriving and bringing your results with you.
COVID-19 Testing Details for Unvaccinated Students, Faculty and Staff
If you're unvaccinated and need testing, you will receive a text with the appointment time.
For  campus residential students, your move-in time will double as your test time. 
For  off-campus and commuter students, your testing will be scheduled for the weekend of Saturday, August 21, 2021, or Sunday August 22, 2021.
For  faculty and employees, you may test on Tuesday, August 10, 2021, between 9 a.m. and noon at the entrance to Radford Auditorium.
Virtual Campus
McMurry Virtual Campus students and faculty, who are 100 percent online, have no vaccine or testing requirements.
Remote Classes
All students are expected to attend classes in-person; therefore, approval requests for remote learning will be limited to COVID-19 associated conditions. If you have a COVID-associated condition, please connect with Dr. Cynthia Rutledge, in Academic Affairs, at crutledge@mcm.edu. Please include in the email your name, phone number, and briefly explain the reason you are requesting remote learning this fall.
---
Fall 2021
#ProtectTheNest Precautions
With the rising number of COVID-19 cases in Taylor County, McMurry is implementing the following safety precautions. All guidelines are subject to change depending on the local coronavirus rates.
Universal mask/facing covering will be required for all students, faculty, and staff beginning Monday, August 9, 2021 regardless of vaccination status.  Wear your mask so that it covers your nose and mouth to help protect yourself and others.
Classrooms will convene with in-person instruction and social distance when possible.  Masks will be required indoors in classrooms.  Each classroom will have hand sanitizer, sanitation wipes and other sanitation items available.
Dining service will be served only, no self-service. Masks will be required in dining facilities unless actively eating and drinking. Social distancing protocols will be in place.
Healthy Roster, the daily check-in tool, will continue asking you to report your temperature and symptoms. The tool provides a green screen that clears you attend classes and come to work. Periodic stations may be set up on campus to check

green screens

. Please be prepared to show your

green screen

when requested.
Indoor campus events 

(Welcome Week, Organizational Expo, CAB, etc.) will require masks by all attendees regardless of vaccination status.

Practice social distancing when possible.
Campus Meetings (students, faculty and staff)
Meetings may be held in-person or via Teams at the discretion of the organizer.

Masks will be required for in-person meeting.

Practice social distancing when possible.
External Events
No external events or meetings until October 1, 2021.
Healthy Practices
Avoid crowds of unfamiliar people and indoor venues that are poorly ventilated.
Wash your hands often with soap and water for at least 20 seconds especially after you have been in a public place, or after blowing your nose, coughing, or sneezing.
It's especially important to wash:

Before eating or preparing food
Before touching your face
After using the restroom
After leaving a public place
After blowing your nose, coughing, or sneezing
After handling your mask

Clean high touch surfaces daily. This includes tables, doorknobs, light switches, countertops, handles, desks, phones, keyboards, toilets, faucets, and sinks.
Be alert for symptoms including fever, cough, shortness of breath, or other symptoms of COVID-19.
Quarantine Requirements
These requirements are based on the ATCHD policies.
Unvaccinated students, faculty, and staff may be required to quarantine for 14 days per CDC guidelines.
If you are vaccinated, quarantine will not be required unless you experience symptoms.
Isolation and quarantine space are limited on campus. If campus facilities are not available, you may need to return home.
CDC Guidelines on Quarantine vs Isolation
Quarantine keeps someone who is unvaccinated and has come into close contact with someone who has COVID-19 away from others. Currently, CDC knows that the best way to protect yourself and others is to stay in your living space for 14 days after your last contact. Abilene-Taylor County Public Health District are following these guidelines and McMurry supports the guidance of the local health department.
Testing positive for COVID-19 requires isolation to avoid infecting other people. Testing positive will require you to be moved to a private location on campus (if space is available) or asked to return home until it's safe to be around others. Anyone sick or infected should stay in a specific "sick room" or area and use a separate bathroom (if available). Isolation requirement is 10 days and at least 24 hours with no fever.
Athletes: ASC Conference Testing Protocols
On July 26, 2021, the American Southwest Conference (ASC) notified the conference members of the unanimous approval of the following testing protocols of athletes during competition periods: 
"Individuals with proof of full COVID vaccination and who participate in the sports of men's cross country, women's cross country, football, men's soccer, women's soccer, and volleyball will not be subject to ASC COVID testing protocol unless they are symptomatic. Individuals who are not fully vaccinated and participate in the sports of men's cross country, women's cross country, football, men's soccer, women's soccer, and volleyball will be subject to ASC COVID testing protocol."  
Athlete Testing
Twenty-four (24) hours prior to each competition or travel, unvaccinated athletes will be required to test regularly for COVID-19.
Vaccinated athletes will not be required to test unless they are showing symptoms.
Athletic Travel Precautions
Athletes must wear masks when in public areas.
Athletic Spectator Requirements
No audience limitations.
Practice social distancing when possible.
Masks required by all attendees .
Note that guidelines may be changed to align with NCAA or updated ASC protocols. 
McMurry Campus Notifications
The campus community will continue to be informed when positive cases are identified in the campus community both on and off-campus, including students, faculty, and staff. We will continue our notification process for the campus community via email and posted on McMurry's web page at https://services.mcm.edu/health/coronavirus.html. 
Move-In
Scheduling: Move in dates/times were shared with students via text message on Wednesday, August 4, 2021. Included in the message was a link to schedule your move-in time based on reporting back times for athletics, band, orientation, and/or other activities.
Move-In Dates: New and returning student move-in begins on Wednesday August 18 and Saturday, August 21, 2021, respectively. Please contact  residencelife@mcm.edu for more information. 

Students will be asked when signing up for a time slot whether or not they are going to be vaccinated, tested within seven days of arrival, or would like to request testing upon arrival.
Move-In Requirements:

Masks will be required while in the residence halls.
Students may only bring three (3) guests with them, and their guests may only help out resident for three (3) hours in the halls.
Residence Hall Requirements
Masks will be required while in the residence halls.
No overnight guests are allowed in the residence halls.
No outside guests are allowed in the residence halls including students from other residence halls, the campus apartments or off-campus students.
Housing Assignments
Housing assignments are being finalized and will be sent by Friday, August 6, 2021. 
Campus Vaccination Guidelines
McMurry University status is Vaccine Expected. You will need to upload your vaccination record or bring a copy with you when you arrive on campus.
If you are not vaccinated, please schedule a time for COVID-19 testing before returning to campus. You may also test at home before you return, and then bring your COVID-19 test results with you. Negative tests will only be accepted if administered within seven (7) days before the start of classes, Monday, August 23, 2021.
If you are not vaccinated, we are encouraging you to consider getting vaccinated to help McMurry #ProtectTheNest.
You will complete your daily symptoms check via Healthy Roster to receive a green screen to enter campus facilities.
I look forward to welcoming you back to campus in August. Through diligence and safety precautions, we will enjoy the Fall 2021 semester together. I am so proud of our campus community for all that you have done to help us navigate this pandemic together. If you have any questions, please email campussafety@mcm.edu.
From the Office of the President
Dr. Sandra S. Harper
#ProtectTheNest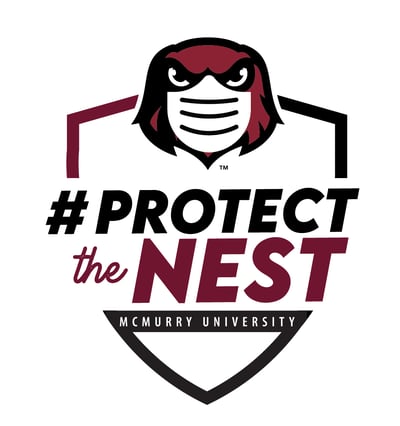 COVID-19 Campus Policy Update
Amended Summer Guidelines for Fully Vaccinated
McMurry University continues to monitor and adapt campus policies taking into consideration COVID-19 CDC guidance regarding safety precautions.
On Thursday, May 13, 2021, the CDC issued new guidance for fully vaccinated individuals. Fully vaccinated individuals are no longer required to wear a mask or physically distance except where required by federal, state, local, tribal, or territorial laws, rules, and regulations, including local, business and workplace guidance.
Effective May 18, 2021 , McMurry is updating campus policies to align with CDC guidance .
For individuals who are fully vaccinated, face coverings will no longer be required indoors or outdoors.
Social distancing will still be adhered to in classrooms.
Campus Community Attitudes Survey
McMurry is currently administering an anonymous survey to help us better understand vaccination attitudes. If you have not taken the survey, please consider doing so now. Visit this link to complete the survey. Deadline is Friday, May 21, 2021.
Importance of Continuing to Use Healthy Roster
McMurry continues to use Healthy Roster for daily symptoms reporting. Daily texts and/or emails will continue so please make sure you report on days when you will be on campus. It is an important tool that has helped us #ProtectTheNest.
Importance of Getting Vaccinated
The new CDC guidance emphasizes the importance of getting vaccinated to resume pre-pandemic activities on campus. Everyone 12 years of age and older is now recommended to get a COVID-19 vaccination.
Taylor County Vaccinations Locations:
The Abilene Public Health District's (APHD) Facebook page continues to update the locations of local vaccine clinics and the ways to register for them. Click here to link to the screen form to schedule your appointment through APHD.
Hendrick Health offers vaccines. Click here to go to their website for more information.
Vaccinations are available through retail pharmacies locally, check their websites. Here is a link to the  CDC list of participating pharmacies.
If you have any questions or concerns, please email us at CampusSafety@mcm.edu .
From the Office of the President
Dr. Sandra S. Harper
#ProtectTheNest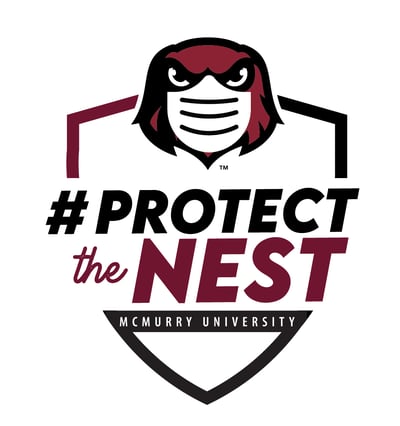 McMurry University Summer Guidelines for Fully Vaccinated People
OUTDOORS 
Fully vaccinated people will no longer need to wear a face-covering outdoors.
Face covering will be required when there is a decreased ability to maintain physical distance outdoors. 
INDOORS
Face-covering will be required upon entering buildings.
Face covering and social distancing protocols will continue to be followed indoors. 
UNVACCINATED
Unvaccinated people should continue to wear a face covering both outdoors and indoors.
Social distancing protocols should be followed both indoors and outdoors. 
CDC Updates for Fully Vaccinated People - April 27, 2021
If you have any questions or concerns, please email us at CampusSafety@mcm.edu .
From the Office of the President
Dr. Sandra S. Harper
#ProtectTheNest