You may email questions or comments to CampusSafety@mcm.edu . Your comment will be shared with the appropriate campus department. If you have a question, please allow 72 hours for a response. 
Campus Updates
#ProtectTheNest and Continue Wearing Masks
Governor Abbott announced that Texas is no longer under a statewide mask mandate. We're all eager to get back to normal, but COVID-19 is still leading to thousands of illnesses and deaths in our state and across the country.
To #ProtectTheNest and maintain our in-person classes, McMurry University will continue to require all students, faculty and staff to wear face masks while on campus. We're currently at zero cases for the first time since August—and we want to keep that safety and success going!
We'll continue to monitor the situation, listen to public health experts and drop our mask requirement just as soon as it's smart and safe. Let's protect ourselves and one another and wear our masks with pride.
---
March COVID-19 Guidelines Update
Keep up the great work, War Hawks!
As we close out the month of February and look towards March, we are optimistic and excited for what the spring will bring.
McMurry Athletics will be hosting over 100 athletic events this semester, with March alone having an event nearly every day. After a prolonged absence, Theatre will take the stage back in Ryan Little Theatre with Wait Until Dark, March 4 - 7 with curtain at 7:30 p.m., Thursday - Saturday and 2 p.m. on Sunday. 
With COVID rates continuing to decline in Abilene and Taylor County, we are hopeful but cautious and stress that our campus community must remain diligent to keep numbers down. 
Review the information below
for campus updates for the month of March.
Social distancing and face coverings protocols remain while about campus. 
In-person meetings on campus may resume - social distancing and face coverings guidelines still apply.
In-person chapel resumes at 11 a.m. on Tuesday's in Mabee.
Athletic events will continue to allow a limited number of spectators at each event. Emails will be sent to your mcm.edu email one day prior to the event. Please reserve your seat if you would like to attend. 
University sponsored events on campus will be postponed for the month of March. 
Students/faculty/staff need to continue to complete the Healthy Roster survey via text or email.
Campus guests will need to complete a Healthy Roster screening. Healthy Roster Guest Pass is now active and can be accessed by texting mcmsurvey to 352-644-8406.
Precautions
Social distancing and face coverings guidelines still apply on campus. 
Please refrain from off-campus parties which have historically proven to impact Covid and campus quarantines.
If you have any questions or concerns, please email us at CampusSafety@mcm.edu .
From the Office of the President
Dr. Sandra S. Harper
#ProtectTheNest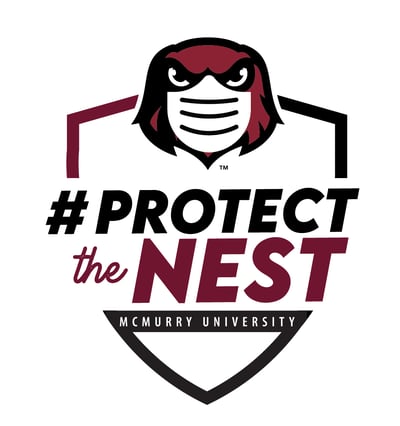 Previous Campus Updates
COVID-19 Updates