You may email questions or comments to CampusSafety@mcm.edu . Your comment will be shared with the appropriate campus department. If you have a question, please allow 72 hours for a response. 
Campus Updates
UPDATE 11/24/20 - Update for Tuesday, November 24 - 1 New Case
Tuesday Update - 1 New COVID-19 Case
McMurry University learned Tuesday that one student received a positive test result for the coronavirus. Contact tracing has been completed. We currently have 24 active and 88 recovered cases. The total case count since the beginning of the Fall semester is 112.
Safety protocols must be followed.
We must all practice the safety guidelines in the War Hawk Pact and SafeGuard McMurry Return to Campus Plan to #ProtectTheNest.
WEAR your mask properly, covering your nose and mouth
WEAR your mask when around others, in class, about campus, residence halls and all common areas 
WASH your hands regularly
AVOID touching your nose, 

mouth, or eyes

PRACTICE social distancing
AVOID off-campus events
DON'T ignore any symptoms, even mild ones 
REPORT daily in Healthy Roster
If you have personal concerns, please email CampusSafety@mcm.edu with your phone number, and someone will follow up. 
From the Office of the President
Dr. Sandra S. Harper
#ProtectTheNest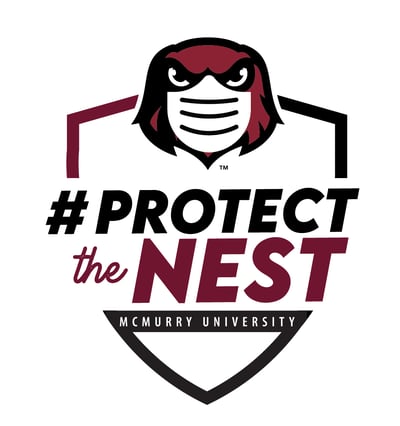 PREVIOUS UPDATES