You may email questions or comments to CampusSafety@mcm.edu . Your comment will be shared with the appropriate campus department. If you have a question, please allow 72 hours for a response. 
Campus Updates
UPDATE 9/8/20 - New COVID-19 Case - Sept 8th
COVID-19 Cases Update as of September 8, 2020
McMurry University learned Monday that a student who resides on campus tested Antigen-positive for coronavirus. The student had returned home around September 1 to quarantine. Contact tracing has been completed. Individuals who came into close contact* with this person have been notified and advised of the necessary precautions.  
If you have personal concerns, please email  CampusSafety@mcm.edu with your phone number, and someone will follow up. 
The new case brings McMurry's total cases on campus to four since the beginning of the Fall Semester. Two have recovered and two are active cases.
From the Office of the President
Dr. Sandra S. Harper
*Contact Tracing Recommendation / Close Contact
According to the CDC, to have been classified as exposed, someone will have been in close proximity (less than 6 feet apart for 15 minutes or longer) to a positive person. Contact will have been within the last three days before symptoms appear or a positive-test result date (asymptomatic). McMurry contact tracers, who have taken the Johns Hopkins Contact Tracing Course, are also defining close contact as those near the individual for an extended period.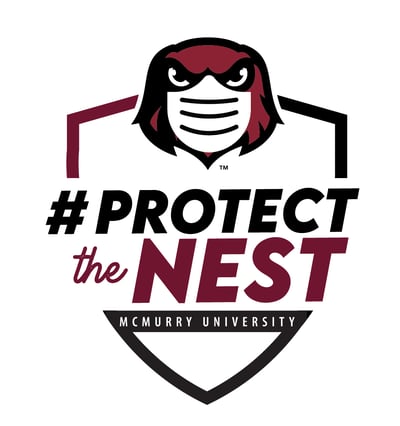 RESIDENCE HALL AND CLASSROOM GUIDELINES
No off-campus guests in campus housing including residence halls and apartments
No more than 4 students in a room 
AVOID RISKY BEHAVIOR
Safeguarding McMurry requires us to avoid behaviors putting others at risk and ultimately placing you at risk.
Not wearing a face covering or mask when in the presence of others
Not practicing social distancing
Not wearing a mask properly (fully cover your nose and under your chin)
Attending off-campus parties, especially indoors
Gathering in groups of more than 10, especially not wearing masks
PREVIOUS UPDATES